Welcome to the InterBoard Poetry Community. We provide assistance, incentive, and an environment conducive to improving the quality and popularity of Internet poetry. See our "About" section for a detailed description of who we are and how we came to be, as well as where we're headed.
---
Current Judge: Sarah Carleton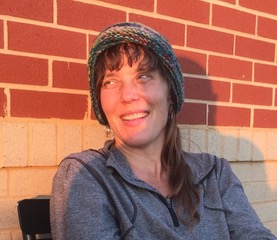 Sarah Carleton
Sarah Carleton writes poetry, edits fiction, plays the banjo, and makes her husband laugh in Tampa, Florida. Her work has appeared in numerous publications, including Cider Press Review, Nimrod, Chattahoochee Review, Tar River Poetry, Crab Orchard Review, New Ohio Review, and Pirene's Fountain, which nominated her poem "Miami Airport Nocturne" for a Pushcart Prize in 2020. Her first collection, Notes from the Girl Cave, was recently published by Kelsay Books.